11 Dec

Top tips for your Actual Wedding Day

It's the day of your wedding and the last thing you want to do is stress. Wedding planning will finally come to an end and you'll want to enjoy every second of the day. From the moment you wake up on the day of your wedding to the moment you fall asleep with your new last name – you want everything to go without a hitch.

Even if you decided to have a wedding planner or if you decided to deal with everything yourself having a game plan for the actual day is essential.

Here are the key tips you'll need to know for your big day.

1. Include extra time in your day-of wedding timeline.

If you have different venues for the solemnization and the reception dinner, then you should plan for extra time on the day. Every time guests have to move venues or locations, it usually takes longer than one would expect.

And don't forget about any traffic mishaps or weather issues that can hold you or your guests up.

We've put together an example timeline for a 2pm Ceremony Timeline

One of the most common ceremony start times is 2pm. If you're having a 1pm or 3pm ceremony, move this schedule forward or back by an hour respectively.

9am – Breakfast and showers.

10am – Your photographer arrives. Hair and makeup begins on bridesmaids.


Read How to Find the Perfect Wedding Photographer if you haven't chosen your photographer yet.

11am – Bride starts

hair and makeup

. Bouquets delivered. Suppliers begin to set-up at venue.

12pm – Bride gets dressed.

12.45pm – Bridal party photos. Eat a snack here if you can!

1.30pm – Groom and groomsmen arrive for ceremony. Guests begin to arrive.

1.45pm – Bride and bridal party depart for venue with photographer.

2pm – Ceremony starts.

2.45pm – Ceremony ends. Confetti shots. Couple depart for photos.

3.15pm – Reception drinks begin. Canapes served.

3.30pm – Couple returns from taking photos. Photos with wedding party.

4.45pm – Seat guests for dinner.

5pm – Starter and main course.

6.15pm – Speeches.

6.45pm – Dessert.

7.15pm – Cutting cake. Bride and groom leave for 'golden hour' photos.

8pm – Evening guests arrive.

8.30pm – First dance.

8.45pm – DJ/band starts.

10.30pm – Evening food served.

11.45pm – Bride and groom depart.

12pm – Party finishes (or continues on elsewhere!).

2. Remind your wedding party to bring a bag

While you may have a plan for storing all your day-of outfits, your wedding party might need a reminder to do the same.

Pro-tip: Provide a bag as part of the wedding party gift to ensure everyone has somewhere to put their change of clothes or heels.

3. Put someone in charge for the day

Even if you have decided to go without a wedding planner, you should always appoint a trusted individual to execute the wedding the day of.

Whether it is one of your bridesmaid or a trusted family member, you need a specific person to help welcome the guests, check seating arrangements, deal with the vendors.

For the end of the night, you also need to designate a person to gather pieces of decor, leftover favors, and other items after your wedding reception as you head off to your honeymoon!.

4. Pack your day-of wedding bag the day before

As your wedding day quickly approaches, you'll start to notice the amount of things that you've accumulated and need to bring with you to the venue before or the day of the wedding.

Between finalizing details with your vendors and dropping things off, it's a juggling act to remember all the things you need to take care of before the big day.

See below for our guide: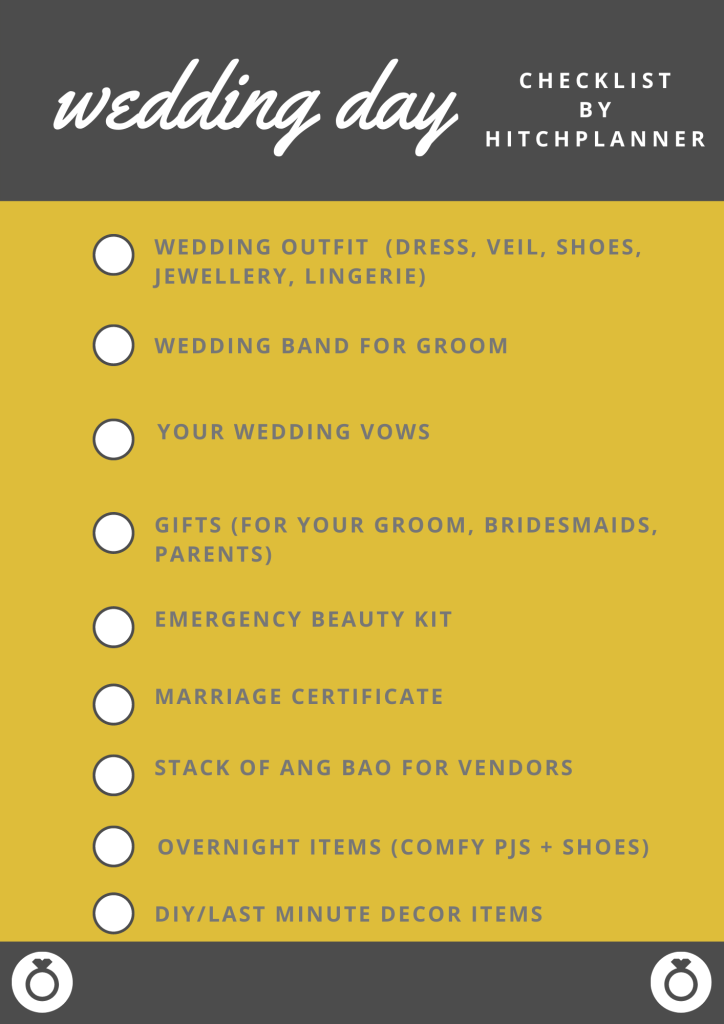 Your wedding will be the most memorable day of your life but under all that stress you might forget to enjoy yourself!

Focus on the person you are about to marry, not everyone in attendance. Sometimes brides can spend so much time with their bridesmaids and family and forgot to spend time with my husband during the reception, so make sure to take time out to enjoy yourself with your new husband!